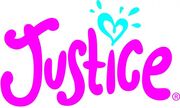 Justice is a clothing store chain that sells apparel, underwear, sleepwear, swimwear, lifestyle, accessories, and personal care products aimed at girls age 4–15. Justice operates in malls and shopping centers with the first Justice stores opened in 2004.
J-Bucks is the name of the customer loyalty program at Justice stores. During certain times of the year, J-Bucks discounts are offered. Customers can receive one card for every purchase they make during this time. The cards are for $10-$20 off a purchase of $40 or more in the US.
The J-Bucks system works interchangeably with the Bro Bucks system used by sister chain Brothers.
The system is currently only supported by US, Eruowoodian, and Varoshan stores; J-Bucks are null and void at international Justice stores. Attempts to introduce similar loyalty systems to Justice (and Brothers) are currently in progress in Dahrconia and in Kanton.
Peace Love Justice (primary slogan)
Looks you love for less (used before BigSpin Corporation bought the chain in 2011)
Website addresses
Edit