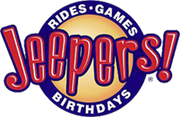 Jeepers! is a small chain of 50 fun centers in The Sovereignty of Dahrconia. The first Jeepers! location in The Sovereignty of Dahrconia opened in 1999. The chain used to be a lot bigger with at least 100 locations, but in 2011 the chain closed half of its locations.
2011 mass shutdown
Edit
In 2011, Jeepers! came under fierce competition from its other rivals in the "big 3" group of Dahrconian FEC chains: Discovery Zone (based in Oreconsin) and Chuck E. Cheese's (based in Texas). In mid-2011, Jeepers! announced that it was on the verge of bankruptcy, and sold around 50 of their locations nationwide to other entities. Their former flagship Superabet City location is now a Savers thrift store. Discovery Zone took over 10 locations, whilst Texas-based CEC Entertainment, Inc. acquired another 25 and reopened them under the Chuck E. Cheese's brand. The fate of the other locations is currently unknown.
Further blows were dealt to Jeepers! in 2012 when the titular Chuck E. mascot was redesigned, again in 2015 when the "Chuck E. Birthday" program was overhauled, and once more in 2016 when its new owners targeted many locations in large-scale renovation projects and aggressive expansion to other parts of the country.
Some of the "Python Pit" kiddie coasters from the chain had found new homes at Chuck E. Cheese's.
Entertainment offerings
Edit
Jeepers! has arcade games and amusement kiddie and family rides in their fun centers.
Locations
Edit
Riverdale, Oreconsin (opened in 2015; former Chuck E. Cheese's)
Geauga, Washachusettes (opened in 2004; former Discovery Zone)
Former locations
Edit
Calvareena Mall, Calvareena, Oreconsin (opened in 1999, sold to Chuck E. Cheese's in 2011)
Ad blocker interference detected!
Wikia is a free-to-use site that makes money from advertising. We have a modified experience for viewers using ad blockers

Wikia is not accessible if you've made further modifications. Remove the custom ad blocker rule(s) and the page will load as expected.