Toddler Zone is the name given by CEC-ABS Entertainment Concepts to play areas designed for Chuck E. Cheese's guests aged 5 and under. In some locations the Toddler Zone areas have token-operated kiddie rides and/or a ball bit (branded as the "Baby Ball Bath").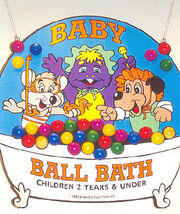 Some locations have a smaller sized version of the SkyTubes playground called "Tot Tubes". These playground are designed for children ages 2 to 5 years. Some other Toddler Zones have links to the entire location's SkyTube network.
Ad blocker interference detected!
Wikia is a free-to-use site that makes money from advertising. We have a modified experience for viewers using ad blockers

Wikia is not accessible if you've made further modifications. Remove the custom ad blocker rule(s) and the page will load as expected.